Share
Belvidere Women's Institute: a story of community
June 23rd, 2022
First organized as the Belvidere Homemakers' Club in 1916, the first founders established the club as a way to contribute to the war effort during World War I.  During the war years, the Club focused on making and collecting linens, knitted items, and food to the Red Cross and YMCA, which was then distributed to soldiers overseas.  While Belvidere as a neighbourhood has disappeared off the maps, it's notable that the Belvidere group was the second Women's Institute founded in Sherbrooke County.
First things first: where WAS Belvidere, anyway? If you guessed that it has something to do with Belvédère Street, you are correct.  The neighbourhood of Belvidere was located in the area of the present-day Felton Street in Sherbrooke.  At the time, however, what would become Dunant Street was called de la Grotte Road and North Hatley Road was Upper Belvidere Road. The present Belvédère Street was called Belvidere South Street.   Also worth noting is that de la Grotte Road turned at Felton Street and did not continue straight the way Dunant does today.
The street, as well as the neighbourhood, draws its name from an early 19th century property owner, William Bowman Felton, who had built a grand home in that area, which he named "Belvedere" from the Italian words for "beautiful view."  The women of the Belvidere W.I. continued acknowledge Felton's contribution to the neighbourhood more than century later when they celebrated Sherbrooke's "centenary" with a tea and the placement of a commemorative plaque at the old Felton property in 1937.
Although the Club organized activities in the spirit of other Women's Institutes from the beginning, the Club was officially renamed the Belvidere Women's Institute in 1921.  Beyond fundraisers and other charitable work, Women's Institutes across Canada played an important role in the movement towards more resources for "adult education," which saw a heightened emphasis on providing practical classes for adults to expand their knowledge.  Belvidere was no exception to this; the 1918 topics included canning, dressmaking, school libraries, and hygiene.
Through the years, the members of the Belvidere W.I. pursued many activities aimed at improving their surrounding communities but they also knew how to have some fun at the same time, including social activities, friendly contests, and creative parade floats.  After 76 years of camaraderie and community service, the Belvidere Women's Institute disbanded in 1992.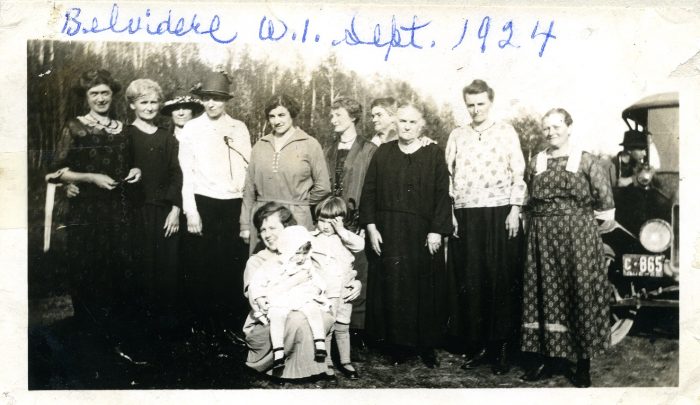 Photo credit : P003 Belvidere Women's Institute fonds
Belvidere W.I. hat contest using kitchen utensils, ca. 1965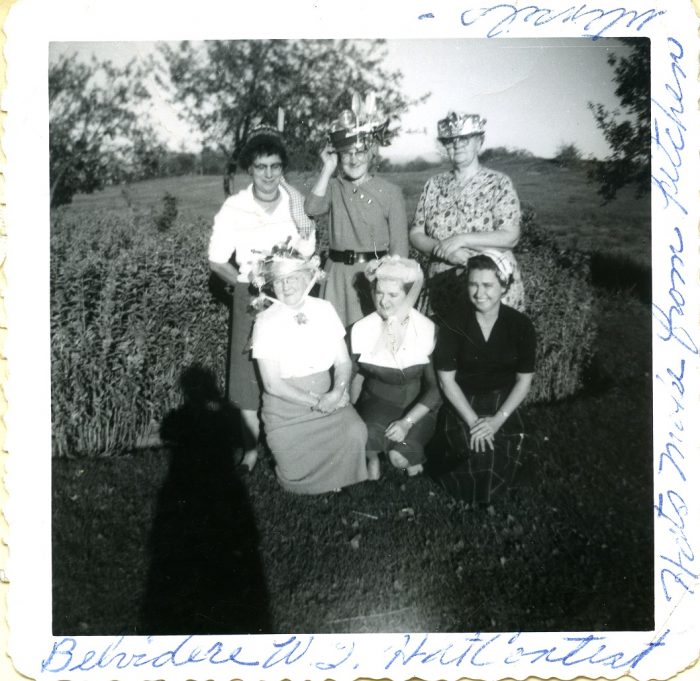 Photo credit : P003 Belvidere Women's Institute fonds
Belvidere W.I. picnic, 1971
Belvidere Women's Institute: a story of community
June 23rd, 2022
Jody Robinson