Share
Introduction
Overview
Database functions
Membership
The Eastern Townships Archives Portal (ETAP) was established in 2016 as a multilingual, multi-repository online archives management database for historical societies and archives repositories situated in the geographic area known historically as the Eastern Townships of Quebec.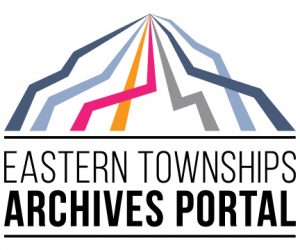 Search our extensive database

Introduction
ETAP runs on AtoM, for Access to Memory, which is an open source web-based software first developed by the International Council on Archives and now continues to be supported by Artefactual Systems Inc.  AtoM is designed to adhere to international and national standards of archives management and description.
As a multi-repository database, ETAP is able to host the archival collections of many historical societies and institutions preserving archives together, in one place.  As one of the strengths of the database, this quality benefits researchers interested in the heritage of the Townships by giving them one online site that allows them to browse the holdings of multiple organizations simultaneously while also allowing them to view digitized photographs and documents.  The database further benefits user institutions through access to an archival collection management software.

Overview of the database
The database offers members the opportunity to upload archival descriptions (formatted according to national and international standards), digital photographs, textual records, maps, audio recordings, and video.
The software easily functions in English and French, allowing users to navigate the database in their preferred language as well as offering the option of providing bilingual descriptions.
The software will search uploaded PDF documents with OCR (optical character recognition) when performing a search and if matches are found, will include them among the search results.
Who can be a member?   Any organization situated within the historical boundaries of the Eastern Townships that preserves archival materials related to the heritage of the region.
Researchers can search the entire database or narrow their search to the holdings of one institution.

Database functions
Administrative side, accessible only via an user account, that is an archival collections management system (administrative side includes modules for archival descriptions, storage management, and accession management)
Public side that allows guests to search and view archival descriptions and digital objects (photographs, textual records, maps, audio recordings, and videos)
Each institution can control the content visible to public users

Membership
Institutional membership fee: $250/year
Annual fee includes 1GB digital object storage space (equivalent to 2000+ digital objects)
User support provided through the ETRC, a user manual is also available
Data is backed up every 24 hours
For more information, contact the archives department