Share
Editor's Note
Table of Contents
The Journal of Eastern Townships Studies (JETS) / Revue d'études des Cantons-de-l'Est (RECE) is a bilingual, multidisciplinary, refereed journal published biannually. Since its creation in 1992, JETS/RECE has served to disseminate scholarly knowledge on the Eastern Townships region and its inhabitants to scholars and to a general audience interested in Townships issues. Our articles offer multiple perspectives on the past, present and future conditions within this unique area of the world from historical, sociological, environmental and scientific viewpoints.
The Journal of Eastern Townships Studies (JETS) is a refereed journal published by the Eastern Townships Resource Centre (ETRC). JETS is indexed in the Canadian Periodical Index, Canadian Index and CBCA. The journal is accessible online in Micromedia's CBCA Fulltext database, Information Access Company's Canadian Periodical Index database, and EBSCO Publishing's America: History & Life with Full Text collection.
Quebec Past and Present
As editors-in-chief of the Journal of Eastern Townships Studies, we are very pleased to bring you volume 47.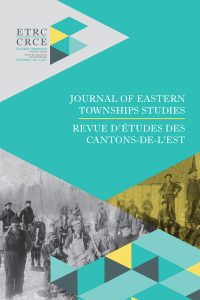 Once again, we are pleased to present our readers with original research from the annual colloquium on Quebec Studies, held in March 2016. For the fourth consecutive year, scholars, graduate and undergraduate students gathered together to discuss ideas and exchange views about Quebec, past and present. After months of academic review panels, numerous revisions and unfortunately, delays of a more personal nature, the following issue reflects a rich and insightful lens on a dynamic, multifarious and ever-changing society.
Cheryl Gosselin
Professor, Bishop's University
JETS Editor in Chief
Christopher Kirkey
Director of the Center for the Study of Canada and Institute on Quebec Studies
State University of New York College at Plattsburgh
JETS Editor in Chief
Table of contents
UNDERGRADUATE STUDENT ESSAYS
ARCHIVAL AND RESEARCH NOTES ON THE EASTERN TOWNSHIPS