Share
A Century Ago on Sawyerville's Main Street
January 16th, 2023
This fall marks 16 years that I have been archivist for the ETRC and through those years, I have been asked all manner of questions about the people and places in our beautiful Eastern Townships.  One place that always seemed to be bit more of a mystery than others is Sawyerville, which is surprising given that it has long been a decently-sized village.  Whereas most towns and villages have large volumes dedicated to their history, giving overviews of the buildings, people, and businesses that contributed to their growth, there has never been a dedicated publication for Sawyerville (as far as I have ever been able to find, at least).
So when a group of postcards arrived in the archives featuring Sawyerville street views, I was giddy at the chance to do a bit more research that would showcase some of its history.  My efforts, however, have mostly raised more questions than they've answered. Notwithstanding the postcard that was mislabeled as Sawyerville but really depicts Hartland, Maine, the postcards show identifiable streets in Sawyerville but often these streetscapes have changed drastically from the early 20th century.
One postcard shows the intersection of North Main and Cookshire Streets from around 1912.  On the right we can see part of J.R. Cunningham's general store and a water trough on the extreme left, but unknown is the building on the left side of Main Street.  Do you know what the building was?
Another is a photo postcard view of what is identified as the Sawyerville Hotel after it was destroyed by fire in 1919.  The architecture of the remaining structure and the date suggests that it wasn't the Sawyerville House, later the Sawyerville Hotel.  There was an early hotel that was destroyed by fire in December 1907, but other photos of it leave questions as well, and would make the date on the postcard inaccurate.  A postal law banning picture postcards until 1904 in Canada means that it has to be later than that, but the postage stamp box from the AZO photo postcard company suggests it may have been from the 1920s. A search through the newspapers did not yield any results, unfortunately.  Perhaps the date is wrong, or perhaps the identification of the building is inaccurate.  Dear readers, do you have more information that can help us iron out this mystery?  If so, please reach out to us!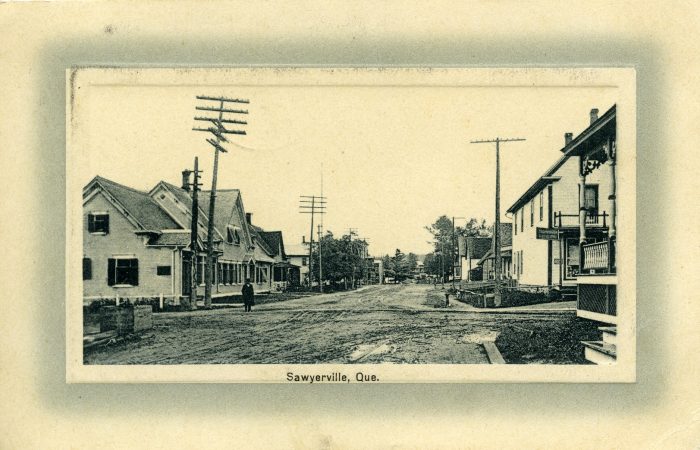 Photo credit : P232 Société d'histoire et du patrimoine du Haut-St-François collection
View of Main Street North in Sawyerville, postmarked 1912.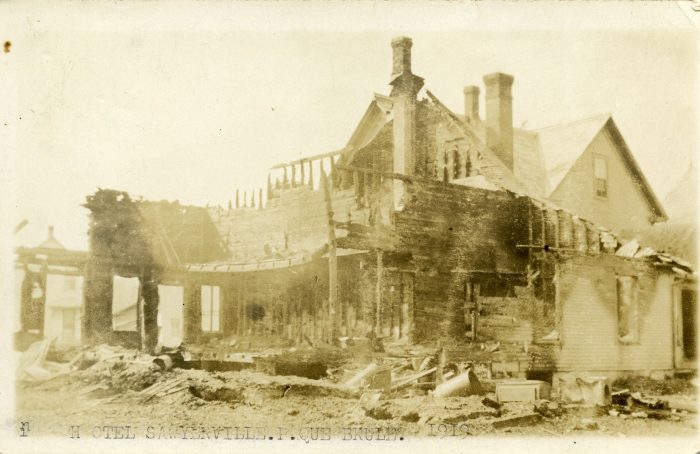 Photo credit : P232 Société d'histoire et du patrimoine du Haut-St-François collection
A postcard mystery: Identified as the Sawyerville Hotel after a fire in 1919.
A Century Ago on Sawyerville's Main Street
January 16th, 2023
Jody Robinson