Share
Hoofin' it to School
September 20th, 2019
Crisp air, leaves beginning to change, and getting back into the routines of school are part of how we're ushered out of summer and into autumn.  With the start of school also come the sights of children travelling to class, some by bus, some on foot and others by parent drop-off.   With this in mind, a browse in the archives led me through some of the changes in how children and teachers travelled to school over the decades.
An early diary from a teacher, written in 1836, recounts her experiences as she taught for 12 weeks in the "wilderness."  The teacher, known only as "Mabel," was 17 at the time and she describes herself as having been "tenderly reared" so her foray into the backwoods is recounted with some dramatic flair.  While she does not give her specific location, she was probably teaching in the area of either Brome or Shefford County.  In 1836, the walk she and the school-aged children of the family she boarded with took to the schoolhouse involved removing and replacing fences, crossing clearings, and much bending and weaving as they navigated the dense woods.
Walking would continue to be the primary mode of travel to school into the 20th century but, as reliable roads were established and the population increased, other methods emerged.  One of these was the "horse bus," pictured here, likely from the East Clifton area, which could transport a number of children to school during the cold winter months.
In the 20th century, the Townships began to see a shift away from local, one-room schoolhouses towards consolidated schools, which partly emerged from the notion that this would result in a better education for the area's youth but also stemmed from a gradually declining rural population.  With schools farther away, it became necessary to find ways to transport students who were no longer able to walk there.  One new method was the motorized school bus. By the 1930s, bus technology had advanced enough that school boards were making use of them in increasing number and, in 1939, the iconic 'school bus yellow' was adopted as the standard colour for the buses.
As a quintessentially Canadian way to get to school, the Bombardier B12 snow bus made its way onto the scene in the late 1940s as a way to reliably transport children to school over snow-covered roads when the early school buses were not able to.
Looking for an interesting conversation starter with family this Thanksgiving?  Ask your grandparents or great-grandparents how they travelled to school!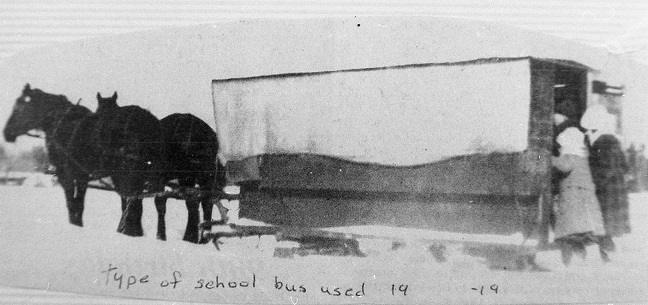 Photo credit : P020 E.T. Heritage Foundation fonds
A "horse bus," ca. 1919.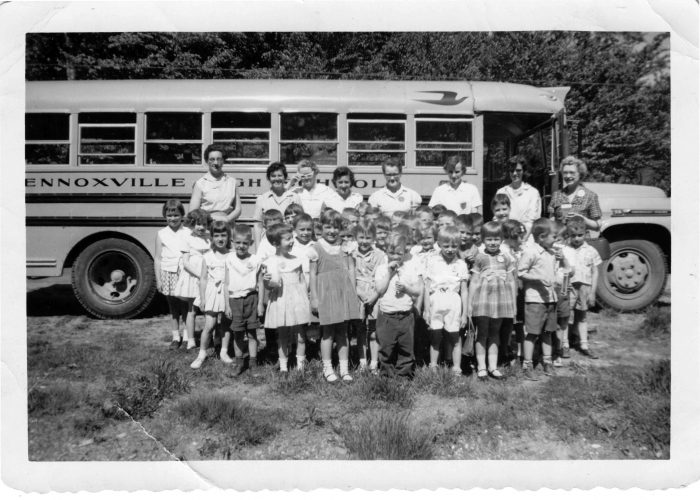 Photo credit : P998 ETRC Graphic Materials collection
An elementary school group from Lennoxville, 1960s. Among those pictured are Nancy Baldwin, Karen Fidler, Timmy Crawford, Jane Fuller, Aveleigh Kyle and her daughter, Penny Kyle.
Hoofin' it to School
September 20th, 2019
Jody Robinson