Share
Kenneth Edgar Clayton-Kennedy: A Forgotten Pioneer of the Royal Canadian Flying Corps?
September 22nd, 2023
By Hannah Osborne-O'Donnell
Kenneth Edgar Kennedy was born in 1891 to parents Helen O'Leory and George R.E. Kennedy in Stanstead, Quebec. Kenneth said that he fell in love with flying when he had the chance to ride in a dirigible at the Sherbrooke Fair. After receiving degrees in engineering and geology, Kennedy decided to join the Royal Canadian Horse Artillery.
In August of 1914, members of the militia were mobilized to Valcartier to form the first Canadian Expeditionary Force. By the end of September, Kennedy was among the first Canadian troops destined for England. While serving as a Captain of the 3rd Battalion of the Canadian Field Artillery, he was seriously injured in May of 1915. After recovering from his injuries, Kennedy was transferred to the British Royal Flying Corps. He made for an excellent pilot, and was promoted from an Observer to Flying Officer within a period of six months.
Kennedy later claimed that it was during that time that he began advocating that the Minister of the Militia, General Hughes, create a Canadian Flying Corps. General Hughes had little interest in developing Canadian aviation capabilities, quoted by Kennedy as saying, "Airplanes are ridiculous, only good for frightening horses."
Lt. Colonel Walter Morden and John Alexander Douglas McCurdy were the major force behind getting General Hughes to change his mind, though Kennedy did play a part of their efforts. In August, 1916, he was selected by Morden to perform an aerial demonstration for Hughes. This demonstration, along with overwhelming support from Canada's business elite, convinced General Hughes of the need of a Canadian Flying Corps.
In 1916, Kennedy married Nance Annie Clayton and took her maiden name. Clayton was an English woman who would move to Canada at the end of the war; in the meantime, Mr. Clayton-Kennedy continued to receive promotions. He was transferred to the 3rd Canadian Artillery Brigade, promoted to temporary Major, and given command of an aerial gunnery unit. Once General Hughes announced the formation of a Flying Corps, Clayton-Kennedy served as one of the first flight instructors at CFB Borden.
While at CFB Borden, Clayton-Kennedy claims to have trained many well-known individuals; future Prime-Minister and Nobel Peace Prize winner, Lester B. Pearson, was one of these famous people. Clayton-Kennedy claims to have attempted to expel Pearson from the air force due to a "lack of moral fiber". In 1918, Clayton-Kennedy was relieved of command due to his poor health. Despite his flying corps career coming to an end, Clayton-Kennedy continued to believe in the potential of airplanes. In 1919, Clayton-Kennedy became the president of the Aircraft Manufacturing Company of Canada Limited and the Aircraft Transport and Travel of Canada Limited. These two companies were tasked with building and supplying aircrafts to the government of the Colony of Newfoundland and the transportation of goods and passengers, and with the creation of aviation schools. Unfortunately, both companies failed to become successful.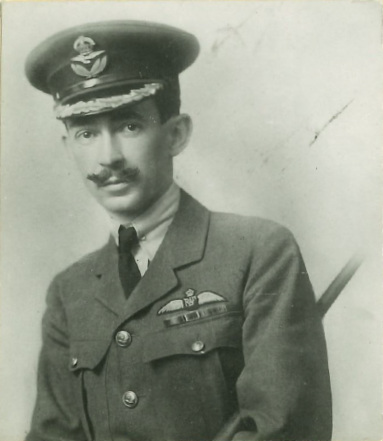 Photo credit : P177 Lake Massawippi Area Historical Society collection
Kenneth Edgar Clayton-Kennedy, as pictured on his 1921 County of London motorcycle license, which was recently offered to the ETRC by the New Brunswick Military History Museum.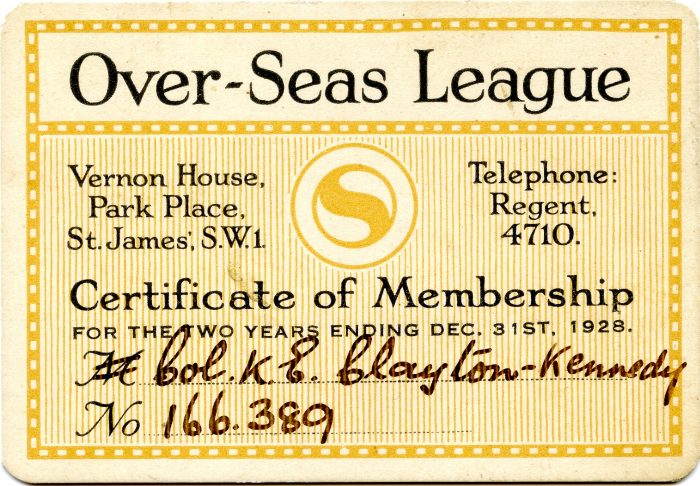 Photo credit : P177 Lake Massawippi Area Historical Society collection
Clayton-Kennedy's 1926-1928 certificate of membership to the Royal Over-Seas League – which describes itself as "a non-profit members' club dedicated to championing international friendship and understanding".
Kenneth Edgar Clayton-Kennedy: A Forgotten Pioneer of the Royal Canadian Flying Corps?
September 22nd, 2023
Jody Robinson