Share
The legacy of Dutch elm disease
August 30th, 2021
In the 1950s, a silent but interminable killer was ravaging the towering elms of the Townships and there seemed to be little that could be done to slow its progress. In half a century, the tenacious Dutch elm disease had wiped out an estimated 50% of the elm trees in eastern Canada but cities were particularly hard hit, having lost over 80% of their elms.  Over the course of four years alone, from 1951-1955, the city of Sherbrooke lost over 500 trees to Dutch elm disease.
The disease, first identified by scientists in Holland, was first found in Saint-Ours, Quebec in 1944 and within 10 years it had spread to nearly all regions of the St. Lawrence Valley and southern Quebec.  It affects white (also known as American), rock, and red elm trees with a fungus spread via bark beetles, which essentially chokes the tree by cutting off its sap supply.
In looking at photographs of landscapes from the early 20th century, among the striking changes evident in them is the presence of elms trees in so many views from around the Townships and are particularly noticeable lining the streets in towns and cities. While elms are found all over rural and urban landscapes, they are particularly desirous in cities for their ability to grow in well-packed, dry soil and for the ample shade provided by their canopy of leaves.  For this reason, elms were planted all over towns and cities, sometimes one of the only tree species seen for blocks.  This is also why towns were hit particularly hard by Dutch elm disease.
Early on, the responses to Dutch elm disease relied on cutting down and burning infected trees, or spraying them with the infamous pesticide, DDT.  Other treatments were tried over the years, including a variety of pesticides, fungicides, and injecting the root system or trunk with chemicals, but nothing proved successful in eradicating the fungus or the bark beetle.  As the disease only gained momentum within two decades of its appearance in eastern Canada, it was feared that elms might be extinct within 60 years.
With so many elms already gone and with the implementation of diligent surveillance of elms by city parks departments, however, the spread of Dutch elm disease dropped off over the last decades of the 20th century. While it still poses a threat to elms, the development of hybrid elm species that are more resistant to Dutch elm disease and the continued vigilance in cities and municipalities for infected trees mean that we can still enjoy the imposing silhouette of the elm tree across our landscapes today.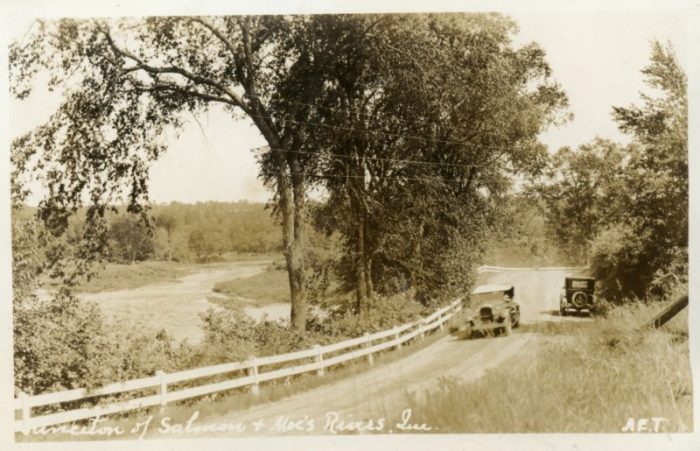 Photo credit : P239 Copping-Boyce family fonds
Elms along Rte 147 near Milby, at the junction of the Salmon and Moe's Rivers, ca. 1920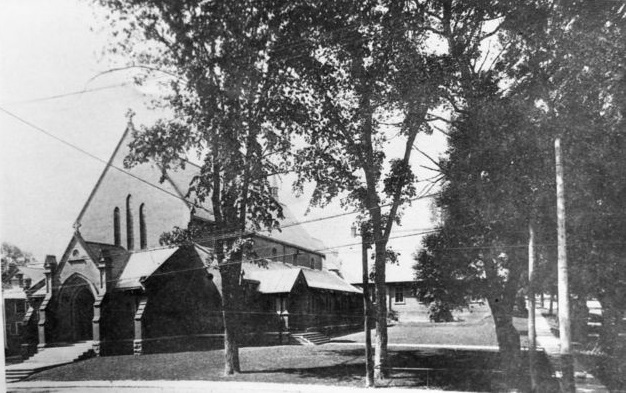 Photo credit : P020 E.T. Heritage Foundation fonds
St. Peter's Anglican Church in Sherbrooke, with elms lining Dufferin Street, ca. 1910.
The legacy of Dutch elm disease
August 30th, 2021
Jody Robinson