Share
Lime Ridge and the Dominion Lime Company
April 16th, 2019
As a company town, Lime Ridge's growth was inextricably tied to the lime quarrying companies that sprung up in the mineral rich area of Dudswell Township in the 19th century. Although the population of the area didn't warrant a post office until 1878, the lime found near Bishopton (then known as Bishop's Crossing) has been quarried since the 1820s.  An advertisement in The British Colonist and Saint Francis Gazette in May 1824, placed by a Richard Smith, proclaimed that he would deliver (by boat) the "superior" "snow white" Dudswell lime to a plethora of destinations.  A seemingly enterprising man, Smith also informed readers that freight and passengers could also be accommodated "on fair terms."
Over time, the Dudswell Lime and Marble Company was founded and expanded the quarry and lime kilns.  In 1887, William Bullock Ives, Francis P. Buck, James R. Woodward, and William Angus formed the Dominion Lime Company in Dudswell Township and, in 1890, amalgamated with the Dudswell Lime and Marble Co.  The establishment of Dominion Lime provided further impetus for the development of the village of Lime Ridge.
From the recollections of people who had grown up around the area of Marbleton and Lime Ridge, it was described as a lively town where much of the activity and businesses were centered around the quarry.  Dominion Lime had company stables with Clydesdale horses to complement the steam power used in the yards, which also necessitated the presence of a blacksmith shop.  The large lime kilns required impressive amounts of wood to keep them burning, which gave farmers in the surrounding areas a local buyer for their winter work.
The finished lime was shipped in wooden barrels made by carpenters in their cooper shop and transported on the short railway branch built specifically by Dominion Lime to connect Lime Ridge to Dudswell Junction.  This branch was included in Hereford Railway's lease of their tracks to Maine Central Railroad in 1890 and then served as the northern terminus for Maine Central. To provide for the businessmen and travelers, there was the Dominion House Hotel.  For its workers, Dominion Lime owned a boarding house and company houses to rent to employees and their families.
Most of 300-400 people who lived in the village at the turn of the century were employed by or closely connected to the Dominion Lime Company, essentially making it a company town.  While the area has kept up its lime quarry and kilns (now managed by the company Graymont Inc.), changes in mobility shifted people towards larger towns and cities, leaving villages like Lime Ridge to slowly disappear.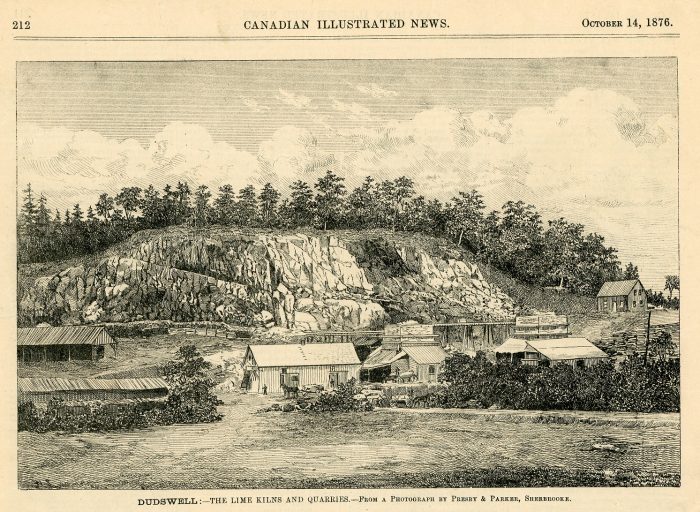 Photo credit : P164 Eddy Echenberg collection
Dudswell lime kiln and quarries, 1876.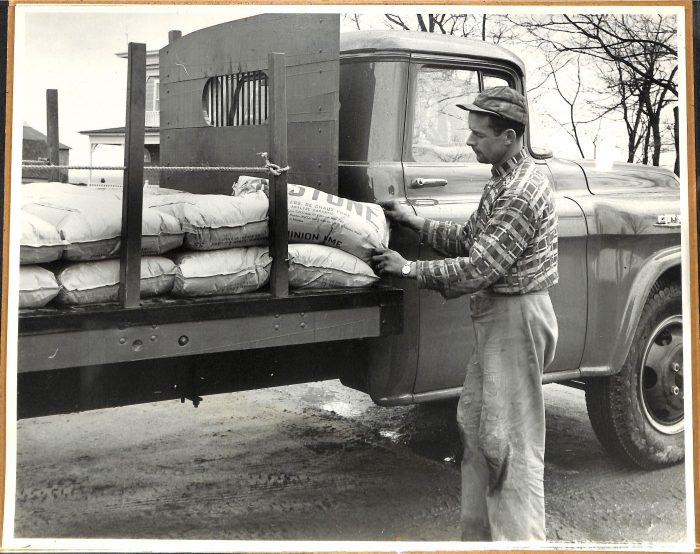 Photo credit : P036/007/008 Donald J. MacMillan fonds
Jean-Paul Dionne unloading bags of lime from Dominion Lime, ca. 1957.
Lime Ridge and the Dominion Lime Company
April 16th, 2019
Jody Robinson