Share
No fear of Toms here: how Tomifobia got its name
April 8th, 2022
While driving recently and upon seeing a sign for Tomifobia, my car-mate made a joke about a "fear of Toms" and asked where the name came from; a question I did not have answer for at the time.   How did Tomifobia get its name?  The short answer is that the hamlet takes its name from the Tomifobia River, which winds its way through the area.  That answer, however, feels unsatisfyingly simple and, as it turns out, there is quite a bit of history of this place that traces through time in order to bring us to the present.
Going back two centuries, when American and European settlers were arriving to Stanstead County, before there was a village of any sort at that spot, Joseph Bouchette's topographical description of the area focuses instead on Lake Tomefobi, which was fed by "a considerable stream" that eventually became known as the Tomifobia River.  By the mid-1800s "Lake Tomefobi" was falling out of use and replaced by "Lake Massawippi," which is what appears on Putnam and Gray's 1863 map of the St. Francis District and, of course, the name by which we know the lake today.  This invites questions on the origins of the names "Tomefobi/Tomifobia."  There is not much published about the etymology of Tomefobi unfortunately, but a few sources in the early 20th century recounted that "Tomefobi" was an alteration of "temossobic", an Abenaki word for fish.  Similarly, "Tomifobia" also has Abenaki origins, with the following possible meanings (according to the province's toponymy commission): tranquil river, crooked river, winding, or river/road that walks.
Settlers, including Philip N. Smith, established mills in the early 1800s on the Tomefobi River and by 1861, the spot included a sawmill and woolen mill, along with a blacksmith shop and schoolhouse.  By 1870, the Massawippi Valley Railway had completed their line connecting Lennoxville to Beebe Junction, which included station – and the subsequent establishment of a post office – at the village.  Requiring a name for the post office and station, and as the Smith family were early settlers, the station, post office and village became "Smith's Mills."   By 1898, Smith's Mills was home to 150 people and consisted of a station for the Boston & Maine Railroad, two sawmills, a gristmill, a hotel, the Methodist church, two blacksmiths, a general store and a woolen factory.
By the early 1900s, however, the generic name of Smith's Mills began to pose problems for people near and far.  According to a newspaper article from the time, the existence of a Smith's Mills, QC; Smith's Falls, ON; Smith's Mills, ME; Smithville, NS; and Smith Cove, NS caused a great deal of headache for the railway and post office, causing significant delays in the delivery of mail and freight when they went to the wrong "Smith" place.  In order to reduce the confusion, the village councilors voted and Smith's Mills was rechristened Tomifobia in July 1918.  And that, my friends, is the long story of how Tomifobia got its name.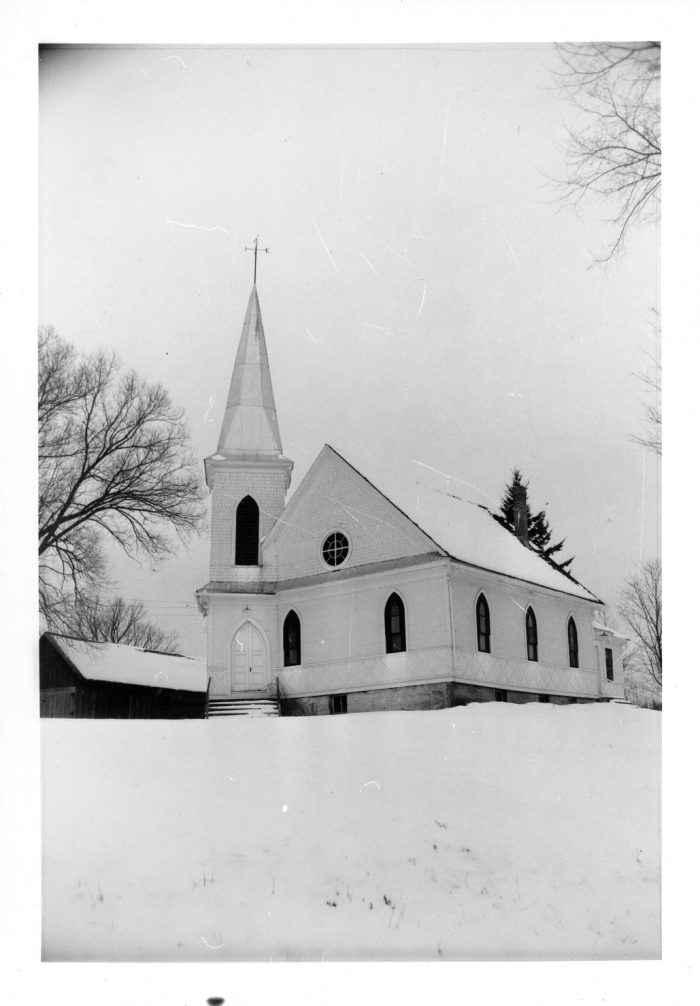 Photo credit : P171 Donald F. Sangster fonds
Tomifobia United Church, ca. 1981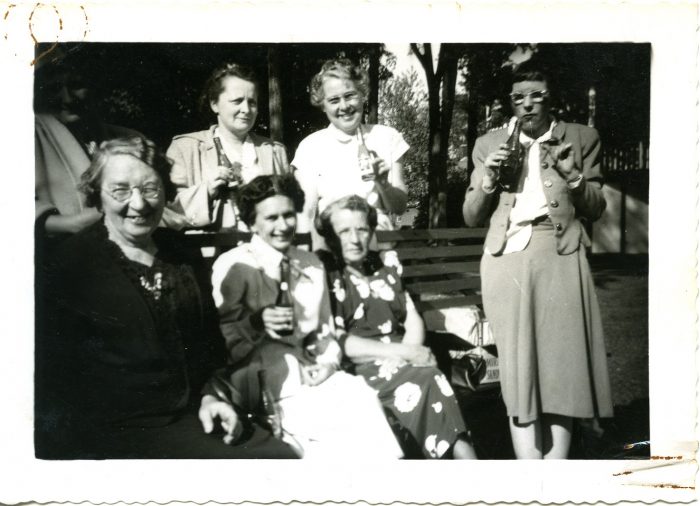 Photo credit : P104 Tomifobia Women's Institute
Ladies of the Tomifobia Women's Institute, ca. 1950s. Can you help us identify any of these women? If so, please contact us!
No fear of Toms here: how Tomifobia got its name
April 8th, 2022
Jody Robinson