Share
Plying the Richelieu River with Captain Benjamin Naylor
July 25th, 2019
For a short period in the early 1900s, Captain B.V. Naylor made his mark on the tourist and shipping industry along the Richelieu River near the Quebec/Vermont border.  Born in Noyan in 1858, Benjamin Naylor's mother died while he was still a baby and so he went to live with his maternal uncle and aunt: Reuben and Rebecca Vaughan.  With this upbringing, Benjamin learned the ferry and shipping business from his uncle Reuben, who had worked on the Richelieu for much of his life.
To accompany Capt. Ben Naylor's lumber and coal shipping business, which he operated out of an office at the docks at the Richelieu Bridge near Noyan, he also endeavored to take advantage of the emerging tourism industry with a passenger ferry that offered day trips to popular recreation spots along the Richelieu River.  He began this enterprise with a steamer named the Richelieu, a small, single deck boat, and then upgraded to the Majestic, which could carry up to 400 passengers and featured a bar and staterooms.
Naylor's next steamer, the Nirvana, sank when some mischievous stowaway muskrats, which had been loaded onto the ship along with some hay, chewed a hole in the hull.  Although the Nirvana was never refloated, its engines went to the Missisquoi, which was among Capt. Naylor's most well-recognized steamers.
Among the popular summer destinations along the Richelieu was Fort Lennox, on Île-aux-Noix in the Richelieu River.  The island served a military purpose during the American War of Independence when fortifications were built and in the War of 1812 when dry docks were added.  Fort Lennox continued to be occupied until 1873, first by British troops and then by convicts awaiting the completion of the St-Vincent-de-Paul penitentiary.
After this, Fort Lennox was essentially abandoned and became a favourite picnic destination, which Benjamin Naylor was able to benefit from when he rented it in 1899 and offered ferry excursions over to the island.  In 1921, however, Fort Lennox was transferred to Parks Canada and became a National Historic Site.
It appears that Capt. Naylor left the shipping and ferry business by about 1910, having sold his last large steamer, the Ojibway in 1908, and later his yacht the Windsor.  He spent the rest of his life as a farmer, writing to his sister in 1918 that "it will be a pleasure to pass my few remaining years in a little rest and comfort."  Likely to Capt. Naylor's surprise, his "few remaining" years turned into almost 20 when he died in 1935.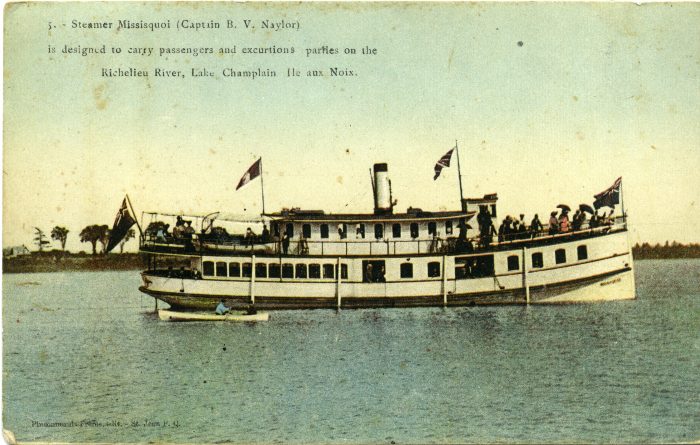 Photo credit : P058/010.05/001/038 Herbert Derick collection
Steamer Missisquoi, ca. 1905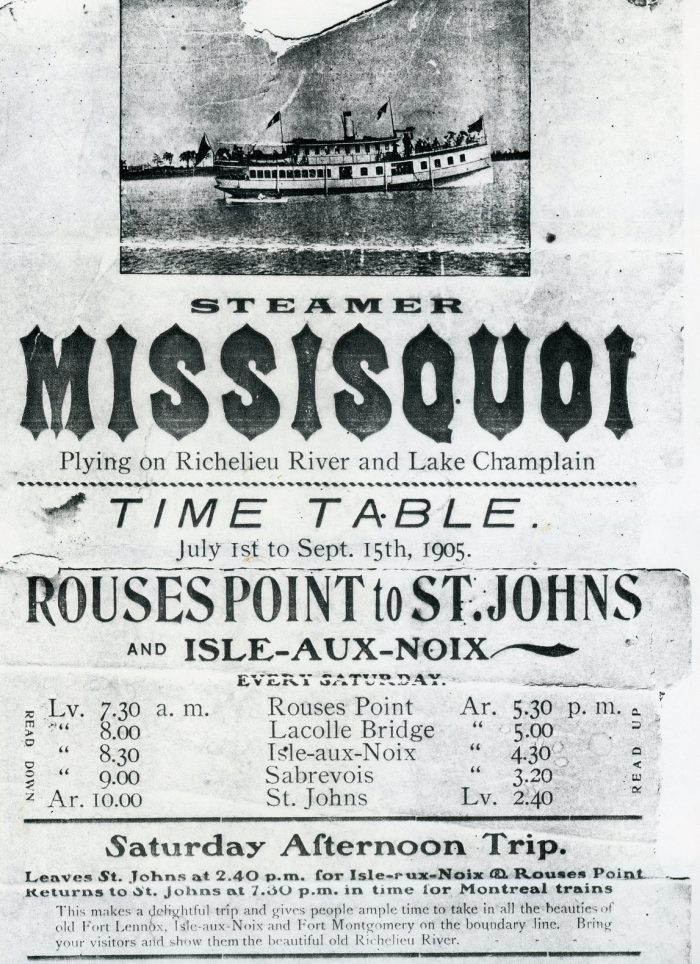 Photo credit : P058/003.34/002 Herbert Derick collection
Poster for the Missisquoi's summer trips, 1905
Plying the Richelieu River with Captain Benjamin Naylor
July 25th, 2019
Jody Robinson