Share
St. Thomas' Anglican Church in Bown
March 8th, 2022
Brookbury. Canterbury. Bown. Bury.  At one time, each of these villages located in the historical boundaries of Bury Township had their own Anglican church (most are still standing today).  The proliferation of churches in Bury, which stand as important institutions in the social and religious lives of the people, can make historical research a challenge at times. A document might make reference to an Anglican church in Bury.  Do they mean Bury-the-town or Bury-the-township?  Moreover, if they mean Bury-the-township, exactly which Anglican Church can become a question without an immediate answer. 
This is how the process goes with research sometimes.  Ask a simple question and down the rabbit hole we go.  A photograph identified simply as "Bury Anglican church on fire" caught my eye recently for the intensity of the flames and smoke; the photo snapped mid-destruction.  A little checking and it became clear that it was not St. Paul's in Bury but St. Thomas' in Bown. Now a collection of a few houses and a cemetery, it once included a Protestant school, a Catholic school, and a post office along with the Anglican Church as part of its small community.
While Bury Township would eventually be home to a number of churches, St. Thomas' in Bown was the first.  Construction on the church started in 1836 and it was consecrated by Bishop Mountain in January 1849.  St. Thomas' was built by the British American Land Company to serve the immigrants they were trying to settle on the lands they had recently acquired from the government.  In particular, St. Thomas' Church and cemetery served the Bown and Canterbury communities for many years, until Christ Church in Canterbury was built in 1896.
The St. Thomas' pictured here is the second church to sit at that spot.  The first church, from 1836, is said to have been destroyed by fire, possibly around 1878 but the details are a bit fuzzy in the records.  Some accounts suggest the first reconstruction attempt for St. Thomas' ended when it was damaged in a windstorm and it was not until September 1897 that the second church, the one pictured here, was consecrated.  On June 10th, 1943, a grass fire ignited and destroyed St. Thomas', but not before most of the contents were saved from the flames.  One item that could not be saved was a memorial tablet, erected in the church to commemorate Guy Thompson who lost his life while serving in World War I.
 St. Thomas' in Bown was never rebuilt, with other Anglican churches available relatively close-by to serve the Anglican community, but the cemetery remained the Anglican burial ground for the area, particularly since Christ Church in Canterbury did not have their own.  In 1956, a commemorative sign was placed at the cemetery to remember St. Thomas' Anglican Church and it remains as a testament to Bown's rich past.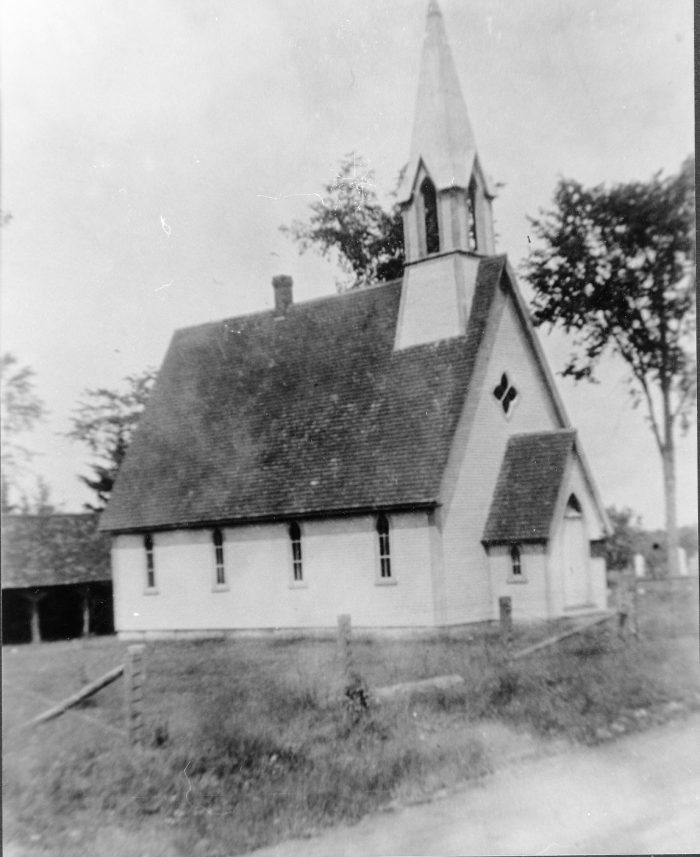 Photo credit : P232 Société d'histoire et du patrimoine du Haut-St-François collection
St. Thomas' Anglican church in Bown, ca. 1940.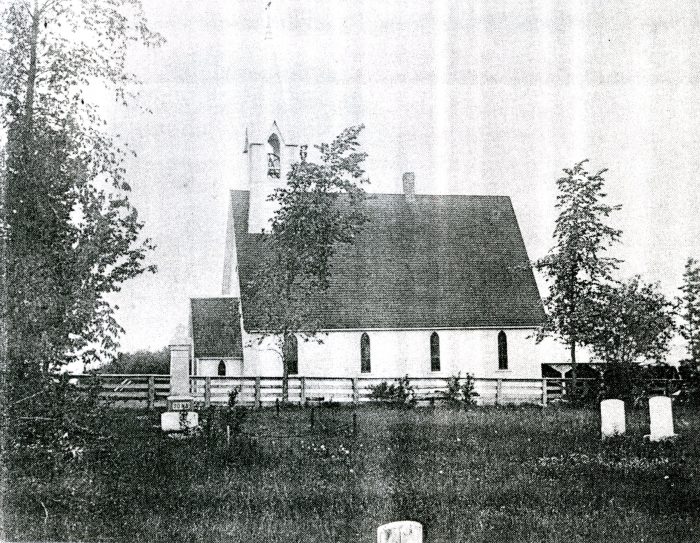 Photo credit : From H. Carl Mayhew's "History of Canterbury, Quebec"
St. Thomas' Church and cemetery, ca. 1920.
St. Thomas' Anglican Church in Bown
March 8th, 2022
Jody Robinson