Share
Tailings in the distance: East Broughton's mining history
December 3rd, 2021
You would think that being presented with a photograph of an unidentified town with relatively substantial mining operations visible in the background would be fairly easy to situate and identify.  Or, at least, that was my first thought when I saw this photograph of a long, building-lined main street with a distinct slope and large tailings piles seen in the background but, as it turns out, I was wrong.  Looking at old topographic maps showing mining operations pointed to a few possibilities, including Robertsonville and East Broughton, but the lack of any visible church and slope of the street didn't seem to quite fit.  Finally, the lightbulb moment came from another photograph labeled as the Quebec Asbestos Corporation in East Broughton.  The challenge had arisen because the mining town was actually East Broughton Station, a neighbourhood community connected to East Broughton but not shown in the photo.
Before the establishment of the mines, East Broughton Station was just that: a station stop along the Quebec Central Railway adjacent to East Broughton, which was a small village whose existence was largely to provide services, such as a church and a post office, to the surrounding farmers.  In 1892, in the very early days of the mining operations, East Broughton had a population of 150.  Around that time, Messrs. Walsh and Mulvena (likely Henry Mulvena and John H. Walsh) were getting an asbestos mine established in East Broughton. This mine would in time come to define the economy of the town.  Initially, many of the miners worked seasonally and divided their efforts between mining and farming but as asbestos mining became more lucrative, employees went from being farmer-miners to miners and the part of the village known as East Broughton Station expanded to house them.  By 1921, the population of East Broughton had grown to 1,709, with the asbestos industry solidly rooted as the dominant employer.
Although it had been operating for almost a decade, the Quebec Asbestos Corporation was officially incorporated in 1901 by a group of Townships men, including Henry W. Mulvena (district magistrate), John H. Walsh (railway purchasing manager); Arthur H. Anderson (railway purchasing agent); John Mulvena (farmer) and Thomas D. Walsh (railway agent).  By 1915, however, Philip Carey Manufacturing, a company operating out of Ohio, had acquired Quebec Asbestos Corp. Focusing on asbestos and asphalt building materials, Philip Carey Mfg expanded their holdings in the province to include a processing plant in Lennoxville and offices in Montreal.
In 1949, Le Devoir published a scathing report by journalist Burton LeDoux on asbestosis, careless mining company owners, and the health of residents of East Broughton where he describes an asbestos dust that blanketed East Broughton Station and the inescapable cough that all mine employees suffered from during their long hours in the freezing, unventilated plants.  His report on the critical health risks from work with asbestos was significant because it was the first to be written in French and widely circulated, doing a great to deal raise awareness among miners about how seriously they should be considering their work environments.  While the employees of Quebec Asbestos Corp. chose not to strike in 1949, LeDoux's exposé on East Broughton contributed to the 1949 strike at the Johns-Manville Company in Asbestos.
Facing declining demand for short fibre asbestos, the Philip Carey Company, which had become Carey Canada, finally closed the East Broughton asbestos mine in the spring of 1986.  At the time of its closure, it employed 170 people. Despite this devastating blow to the one-industry town, East Broughton weathered the challenges and today its population is not that far from its asbestos-mining heyday.  Decades have passed since the mine's closure but its imprints on the town's history are still visible, the tailings piles off in the distance.

Photo credit : P244/006/001 Freeman Clowery Collection
Plant No. 1 of the Quebec Asbestos Corp., ca. 1920s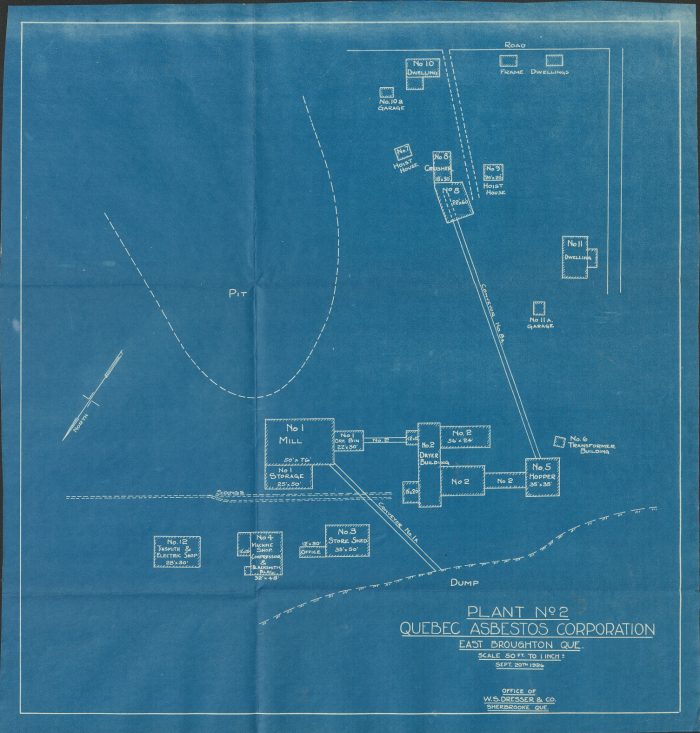 Photo credit : P244/005/004 Freeman Clowery Collection
Plan showing Quebec Asbestos Corporation's Plant No. 2, East Broughton, 1926
Tailings in the distance: East Broughton's mining history
December 3rd, 2021
Jody Robinson