Share
The Davidson family of Georgeville
August 1st, 2023
By Jazmine Aldrich
Many of the Eastern Townships Resource Centre's archival holdings document the lives of families who have impacted our local history. One example is the Davidson family of Georgeville – especially the father and son duo whose craftsmanship shaped much of the landscape along Lake Memphremagog's shores.
James Everett Davidson was born in Brigham, Quebec on March 7, 1860. He was the son of William Davidson and Caroline America Everett Beach. On January 1, 1883, he married Annie Myrtella Brevoort, the daughter of James Gunn Brevoort and Janet Hurst. He built boats, furniture, and many summer homes in the Lake Memphremagog region. His noteworthy accomplishments include working on the Narrows Bridge, a covered bridge over Fitch Bay which was constructed in 1881. The bridge remains standing today and was recognized by the Government of Quebec as a protected heritage site under the Cultural Heritage Act in 2019.
James Everett Davidson's son, James Arlington Davidson was born in Georgeville on October 17, 1891. "Arlie," as he was known colloquially, married Margaret Hazel Merrill and had two daughters, Jean and Janet. He lived almost all his life in Georgeville, working there with his father as contractors and builders.
J.E. Davidson & Son built houses, cottages, log cabins, and boathouses – especially around Lake Memphremagog. In 1931, they were contracted to work on the Anglican Church and Church Hall in Fitch Bay and, in 1934, they worked on St. George's Anglican Church in Georgeville.
Much of the Davidson family's archives consist of account books in which they recorded detailed notes about the jobs they were completing (how many days worked, what they worked on each day, and so on). Thanks to these books, we know precise details such as the rate charged for one day's work ($2.25 per day, per person in 1914, which would amount to about $58.95 in 2023).
The Davidson family made its impression on the Georgeville community outside of their business, as well. Both father and son's names appear on a 1930 petition to the Southern Canada Power Company, amongst a list of ten Georgeville residents pledging four hundred dollars "towards the installation of an electric power line and distribution system for the lighting of the village and to enable electric service to be made available to the residents thereof."
Following his father's death on August 25, 1933, Arlie continued the family business. As of 1950, he was a member of the Building Trades' Joint Committee of the Eastern Townships' District, qualified as a journeyman in the positions of carpenter-joiner and painter-paperhanger.
Arlie retired in 1955 but spent the next twenty years repairing and making reproductions of antique furniture. In 1977, he wrote a booklet entitled Copp's Ferry, Georgeville, 1797-1977. The booklet includes information about the settlement of Georgeville, transportation, accommodations, schools, churches, cemeteries, industries, infrastructure, and inhabitants. James Arlington Davidson died on February 24, 1979, aged 87.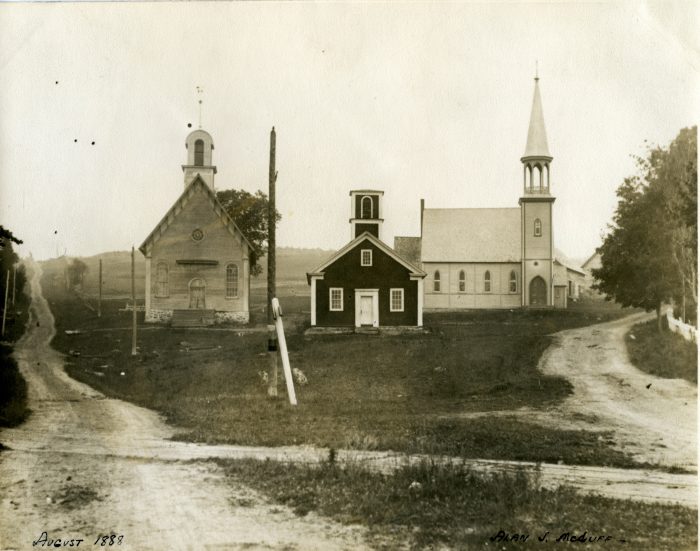 Photo credit : P016 Davidson family fonds
Photograph taken by Allan McDuff in 1888, showing Georgeville's Old Methodist Church (left), school house (center), and St. George's Anglican Church (right).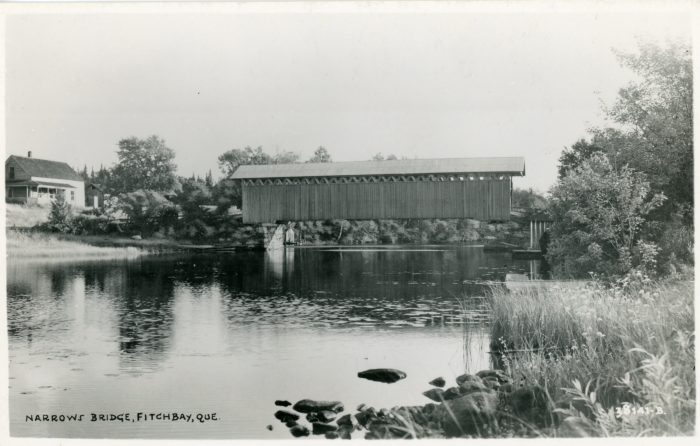 Photo credit : P999 Eastern Townships Resource Centre Postcard collection
Postcard showing the Narrows Bridge over Fitch Bay, probably captured around the 1920s.
The Davidson family of Georgeville
August 1st, 2023
Jody Robinson